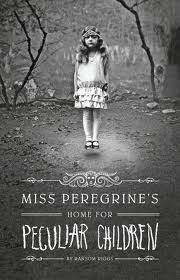 Book: Miss Peregrine's Home For Peculiar Children by Ransom Riggs
Released Date:
June 7th 2011 by Quirk
Pages: 352
Source: Library
A mysterious island. An abandoned orphanage. And a strange collection of very curious photographs. It all waits to be discovered in Miss Peregrine's Home for Peculiar Children, an unforgettable novel that mixes fiction and photography in a thrilling reading experience. As our story opens, a horrific family tragedy sets sixteen-year-old Jacob journeying to a remote island off the coast of Wales, where he discovers the crumbling ruins of Miss Peregrine's Home for Peculiar Children. As Jacob explores its abandoned bedrooms and hallways, it becomes clear that the children who once lived here - one of whom was his own grandfather - were more than just peculiar. They may have been dangerous. They may have been quarantined on a desolate island for good reason. And somehow - impossible though it seems - they may still be alive
Page 51: This is a pretty good book, and the pictures are the type to give you nightmares. Luckily I don't get nightmares. :)
Page 135: Getting kind of freaky in the book... sweaty hands and getting a bit nervous. This is a really good book. The photographs are
amazing
.
Page _____ (Not going to say): HUUUUUUUUUUH?! NOOOOOOOOOOOOO, REALLY?! WOW.
Sarah's Review:
This wasn't like ANYTHING I expected.
Okay, so in the summary, it says that something might be alive. Let me tell you, DUH, there is something alive. The story doesn't end there though. I thought it would be some dull story about how the guy finds the monsters/people/whatever and then he defeats/saves/kills/hides from them. But it doesn't end there. He discovers the peculiar people, but that's only HALF the story. I was really amazed when I find out what the story is actually about (why the O: HUUUUUUUUH?! part is there). I think I might have been overreacting because I was still a bit spooked out from the pictures.
I don't think I can tell you the reason why I was so amazed because then that will just spoil EVERYTHING. I definitely will not tell you about THE SUPER AWESOME REALIZATION MOMENT that I got and how GLORIOUS and the OOOOOOOOOOOH, I GET IT! moments.
There really isn't much I can say about this book because I'm afraid to spoil it and then I'll feel guilty. :\ The character is pretty cool and it really is an awesome book. The story is actually kind of random now that I think about it. I was thinking of the paranormal elements...
The plot is cool and I love how everything just fits together in the end. What I really like is how it doesn't reveal too much in the summary and then when you finally understand, you just get so overwhelmed with the sudden realization.
This book deserves a five. In fact, I think it should go into the Hall of Fame but there was just something about the book that stops me from allowing it into the super awesome page. Maybe it was the darn cliffhanger.